I love Halloween -- I love seeing everyone in costume and all the parties and how wasted everyone gets. I was stoked that it came on a Saturday this year so we got in a full weekend of partying!
On Friday night my friends Hillary and Reid hosted a party at their apartment. My roommate and I were Wayne and Garth from "Wayne's World," and I must say for putting it together out of pretty much nothing (the only thing I bought for my outfit was the blonde wig), my costume turned out pretty excellent.
Hillary and Reid were Goldie Hawn and Kurt Russell from "Overboard." Our friend Colin was a giant baby, and Kristin and Jeremy were cat burglars. There were a lot more people there, but these were the only photos I got.
Unfortunately after I took these photos I drunkenly dropped my camera on the hardwood floor and broke it! So I don't have any pictures of the rest of the night, or of Saturday night, which is too bad because we rolled to the Prospector for their Halloween show. Every year they have local bands dress up and play covers and it's always really good -- this year Ghestapo Khazi played as the Dead Kennedys, the Commotions played as the B-52's, and the Valley Arena played as the Misfits. I snagged a few pictures from my friend Brittany's Facebook page: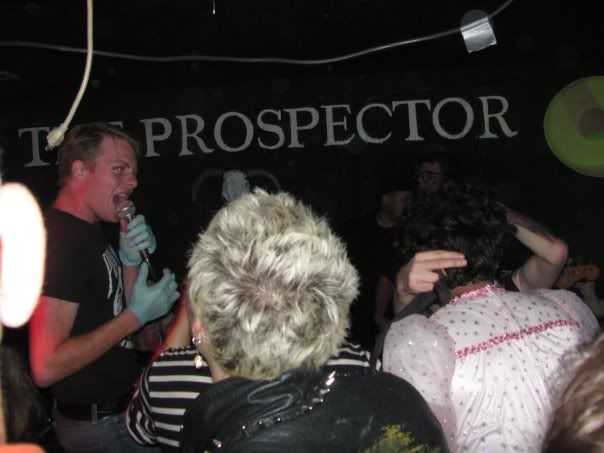 Ghestapo Khazi as the Dead Kennedys.
My adorable friends Jeff and Tammy!
The Commotions as the B-52's and the Valley Arena as the Misfits. Click for full size.
I had an awesome time and at the end of the night Farron and I were surprised to hear "And the runner's up for best costume goes to...Wayne and Garth!" Pretty excellent! We were shocked, but at the same time I have to say that people
were
super stoked on our costumes. Everywhere we went people were shouting "Party on!" and while we were dancing to the Commotions this wasted girl was trying to surreptitiously take photos of us. Wish I could get my paws on
those
pictures.
How was your Halloween? I'm bummed I broke my camera, but I had a sweet time!